W

i

t

t

e

n

b

e

r

g

i

n

R

e

f

o

r

m

a

t

i

o

n

t

i

m

e

s
"Wittenberg in Reformation times" – that is the theme of a special attraction to mark not only the Reformation anniversary in 2017. A 360° panorama brings Wittenberg to life – with some of its most famous inhabitants Philipp Melanchthon, Cranach the Elder and the Younger, Katharina von Bora, Martin Luther and his fellow Reformer Justus Jonas.
The show, with its fascinating and creative use of space, will stay open till October 2024. Artist Yadegar Asisi has revived the tradition of huge circular images (cycloramas) that was popular in the 19th century and then displaced by the advent of moving pictures.
Constantly refining this art form in past years, Asisi has transported viewers to remote areas like the Amazon or Mount Everest, and to distant ages such as Rome in 312, Pergamon or Leipzig in 1813.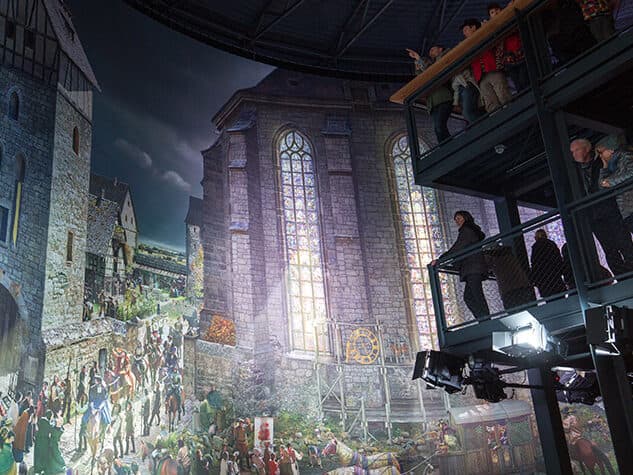 For Berlin he created a panorama called The Wall that grips the viewers with its numerous artistic images. "Whether I show cities or landscapes, what moves me is the tension between human creativity and nature. Ultimately I am interested in the many different variations on developing and perishing."
New vistas open up to the visitors when they step into the painting; they can also gain a more profound insight into the world of Luther and rediscover the Reformation theme at one of its major places of origin
The rotunda in Wittenberg is not just another historical museum: it makes the Reformation an all-round sensory experience.